Product Features:
Heavy Duty Sprocket Roller In Damon
1. Welding the steel sprocket to the steel tube gives it the capacity to transmit high torque and meet the requirements for heavy duty transportation.
2. The precision ball bearing is pressed tightly into the steel bearing housing for maximum durability.
3. The environmental working conditions are broad. They can be used in both high and low temperature applications.
4. The covering on the outside of the sprocket protects the bearings by providing excellent resistance to dust and splashed water.
5. Temperature range: -20ºC ~ +80ºC.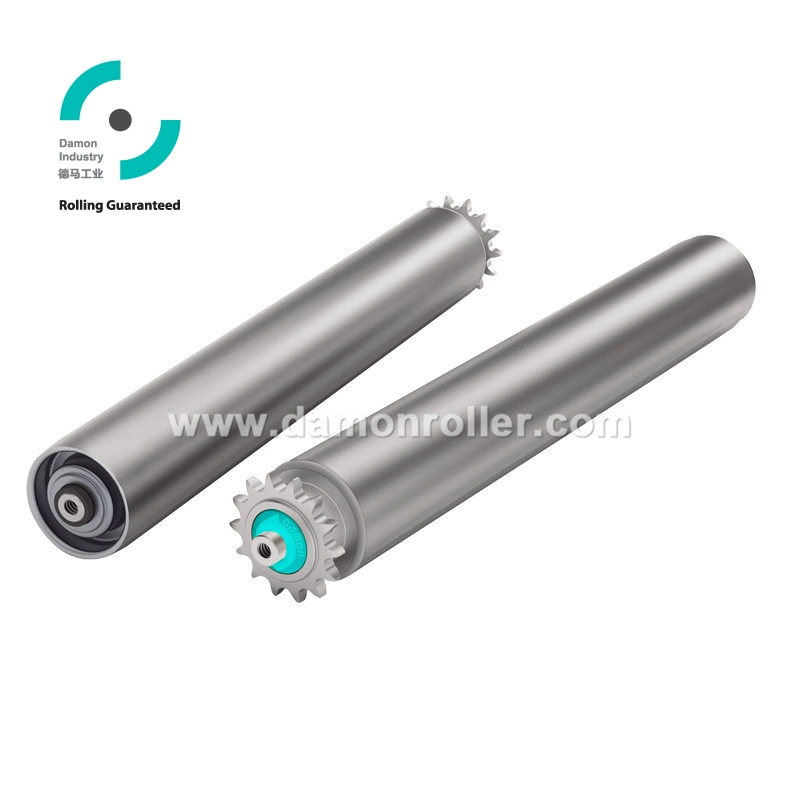 About DAMON:
Zhejiang DAMON Industrial Equipment Co. Ltd, since its establishment in 1997, has always been committed to providing the highest quality conveyor rollers and technical services for a wide range of industries.
DAMON conveyor rollers are used in a variety of industries including food distribution, pharmacy, tobacco, clothing, postal express, logistics and distribution, manufacturing, rubber and airport industries. Damon provides a vast range of reliable and innovative roller solutions. Our de dicated and experienced team of sales people and application engineers work with our clients to ensure the products are suitable for the application and help users improve efficiency and reduce costs.
Globally we have gained the consistent trust of our customers. These customers include influential equipment manufacturing companies and logistics system integrators. We provide customers with over 40 different products covering a variety ofspecifications to suit user's different requirements.
DAMON has built a production facility in China of 11,000 square meters. We have hundreds of employees providing customers a wide range of services such as R&D, manufacturing, sales and service.
With a strong global presents, Damon will continue to expand and pursue a greater market share. From introducing the complete information based ERP management system to the i ndependent research and development of the online roller dimensional drawing system service, we are viewing our market from a brand new perspective and are pleased to share our ideas of quality and innovation with every customer.
DAMON was awarded" The Most Innovative Brand" in the industry of Chinese logistics equipment. DAMON was also selected for the" Chinese Green Warehousing and Distribution Technology & Equipment" recommended directory. We will always focus on supplying outstanding conveyor roller solutions to local and global customers.
With the mission of" Creating value for customer's logistics systems", DAMON will strive for the vision of becoming" The most influential core component supplier and service provider for the global materials handling industry".

Inquiry is welcome, any visit is welcome, and any discussion for cooperation is welcome!
D*t

Shaft

Sprocket

Tube

Steel Z/P

SS

Φ 50*1.5

Φ 12

08B11T

√

√

Φ 50*2.0

Φ 12

08B11T

√

√

Φ 60*2.0

Φ 12,15

08B14T

√

√

Φ 60*3.0

Φ 15

08B14T

√

Φ 76*3.0

Φ 15,20

10A13T

√

√

Φ 76*4.0

Φ 20

10A13T

√

Φ 80*3.0

Φ 20

10B15T

√

Φ 89*3.0

Φ 20

10B15T

√

Φ 89*4.0

Φ 20

10B15T

√
Type

D

D1

D2

welding

Φ76

Φ135

20

Φ89

Φ150

20

locked

Φ76 Φ138,195 23